Films about Andy Warhol and David Hockney in particular, but also about Caravaggio, Salvador Dalí, Francis Bacon, Jean-Michel Basquiat and David Wojnarowicz. Derek Jarman's Caravaggio can also be found in the Individual Directors sections and in the following article about "the emergence of the queer artist biopic" by David Bovey.
Michelangelo Merisi de Caravaggio (1571-1610)
Caravaggio, il pittore maledetto (Italy 1941 by Goffredo Alessadrini with Amadeo Nazzari).
A poster and some screen shots at
http://www.cinemedioevo.net/Film/cine_caravaggio_1941.htm
Caravaggio (UK 1986 by Derek Jarman with Nigel Terry)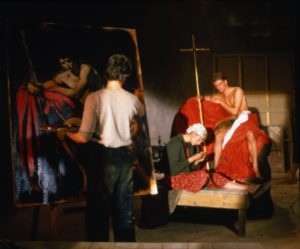 Courtesy of BFI National Archive. Caravaggio is released on DVD by the BFI
[http://shop.bfi.org.uk/directors/derek-jarman/caravaggio-dvd-bluray.html#.WKw96m_yiUk]
Caravaggio (Italy TV mini-series 2007 by Angelo Longoni with Alession Boni). The original Italian version with Russian voice over at
Click on the button below to load the content of YouTube.
Load content
PHA+PGlmcmFtZSB3aWR0aD0iMTAwJSIgaGVpZ2h0PSI0MDAiIHNyYz0iaHR0cHM6Ly93d3cueW91dHViZS1ub2Nvb2tpZS5jb20vZW1iZWQvWEtyUmFlai1teEEiIGZyYW1lYm9yZGVyPSIwIiBhbGxvdz0iYXV0b3BsYXk7IGVuY3J5cHRlZC1tZWRpYSIgYWxsb3dmdWxsc2NyZWVuPjwvaWZyYW1lPjwvcD4=
Source: You Tube by Биография художника
Click on the button below to load the content of YouTube.
Load content
PHA+PGlmcmFtZSB3aWR0aD0iMTAwJSIgaGVpZ2h0PSI0MDAiIHNyYz0iaHR0cHM6Ly93d3cueW91dHViZS1ub2Nvb2tpZS5jb20vZW1iZWQvVlVRV2xTaFZGSk0iIGZyYW1lYm9yZGVyPSIwIiBhbGxvdz0iYXV0b3BsYXk7IGVuY3J5cHRlZC1tZWRpYSIgYWxsb3dmdWxsc2NyZWVuPjwvaWZyYW1lPjwvcD4=
Source: You Tube by Биография Караваджо
Salvador Dalí (1904-1989)
Dali (Spain/Bulgaria/Italy 1991 by Antoni Ribas with Lorenzo Quinn)
Little Ashes (UK/Spain 2008 by Paul Morrison with Robert Pattinson)
Midnight in Paris (US 2011 by Woody Allen with Adrien Brody)
Andy Warhol (1960-1987)
Basquiat (US 1996 by Julian Schnabel with David Bowie as Andy Warhol)
I Shot Andy Warhol (UK/US1996 by Mary Harron with Jared Harris)
Notes on Andy's Factory (US 1999 documentary video by Jonas Mekas)
Factory Girl (US 2006 by George Hickenlooper with Guy Pearce)
David Hockney (1937- )
A Bigger Splash (UK/Netherlands1974 documentary by Jack Hazan)
There have been a number of documentaries about Hockney:
Love's Presentation (UK 1966 by James Scott)
Joiner Photographs (UK TV 1983 by Don Featherstone)
Hockney at the Tate (UK TV 1988 by Alan Benson)
Pleasures of the Eye (Germany 1997 by Gero von Böhm)
Secret Knowledge (UK/US 2003 TV documentary by Randall Wright)
Waiting for Hockney (US 2008 documentary by Julie Checkoway)
David Hockney: A Bigger Picture (UK 2009 documentary by Bruno Wollheim)
David Hockney: The Art of Seeing – A Culture Show Special
(UK 2011/12 BBC 2 TV by Roger Parsons)
Hockney (UK/US 2014 TV by Randall Wright)
David Hockney at the Royal Academy of Arts: A Bigger Picture 2012 & 82 Portraits and One Still Life 2016 (2016 by Phil Grabsky. Part of Exhibition on Film)
Francis Bacon (1909-1992)
Love Is the Devil: Study for a Portrait of Francis Bacon (UK 1998 by pop-promo producer, artist and one-time Derek Jarman collaborator John Maybury with Derick Jacobi and Daniel Crag as his lover George Dyer)
Based to a large extent on the authorized biography The Gilded Gutter Life of Francis Bacon (1994; at Bacon's insistence not published in his lifetime) by the painter's friend Daniel Negley Farson (1927-1997), an English broadcaster and (auto)biographer. Farson (Adrian Scarborough) can be seen in the film socializing with and interviewing Bacon on TV. The Bacon estate refused permission to allow any of his paintings to be used in the film, and Maybury compensates for this by using a film aesthetic which recalls particularly the nightmarish, debilitating quality of his art.
Jean-Michel Basquiat (1960-1988)
Downtown 81 a.k.a New York Beat Movie (US 1981 by Edo Bertoglio with Jean-Michel Basquiat) postproduction 1999-2000 by Maripol rereleased in 2000 as Downtown 81
Basquiat (US 1996 by Julian Schnabel with Jeffrey Wright)
Also note:
"Rapture" (US video of the song of the same name by Blondie directed by Fab 5 Freddy in 1981 featuring cameo by Jean-Michel Basquiat)
The Radiant Child (US documentary 2010 by Tamra Davis)
Based on the footage of an interview which the director and friend Tamra Davis conducted in 1985. Also includes interviews with Basquiat director Julian Schnabel, Bruno Bischofbrger and Thurston Moore.
Graffiti Films: A Selection
Wild Style (US 1983 by Charlie Ahearn)
Probably the very first Hip Hop film and shot entirely on location in the South Bronx and MTA subway yards. Features the NYC graffiti artist George "Lee" Quinones.
Style Wars (US 1983 by Tony Silver)
Documentary on Hip Hop culture emphasizing graffiti, breakdancing and New York street culture. Featuring the US artists Dondi, Seen and Iz the Whiz
Beat Street (US 1984 by Stan Lathan)
Thematizes the NYC hip hop culture of the early 1980s including breakdancing, DJing and graffiti.
Bomb the System (US 2002 by Adam Bhala Lough)
A group of graffiti artists decide to leave their mark on NYC.
Piece by Piece (US 2005 by Nic Hill)
20 years of graffiti history in San Francisco.
Wholetrain (Germany 2006 by Florian Gaag, former graffiti sprayer in 90s Munich)
Deal with the environment and ambience of graffiti (train sprayers).
Infamy (US 2006 by Doug Pray),
A day in the life of the US artists Saber, Toomer, Jase, Claw, Earsnot, and Enem.
Bomb it (2007)
The history of graffiti art from early prehistoric cave paintings to today's global art movement.
Exit Through the Gift Shot: A Banksy Film (UK documentary 2010)
Thierry Gietta is a French immigrant shop keeper and film maker from LA obsessed with street art who tries to find Banksy, thereby turning into a street artist himself.
David Wojnarowicz (1954-1992)
Postcards from America (US 1995 by Steve McLean with James Lyons and Michael and Olmo Tighe as New York City painter, photographer, writer, filmmaker, performance artist, and AIDS activist David Wojnarowicz 1954-1992)
By the Dawn's Early Light (Danish Film Workshop Production Company 1992 by Danish director Knud Vesterskov)